Media article: HMOA Puppies Frolic in Mid-Century Style
8/4/2018
HMOA Wellington director, Max Herriot and wife Bron Eichbaum were photographed in their own home for Sunday magazine about the recent addition to their family, 11 puppies.
Read the full interview with Bron below or on Stuff, HERE.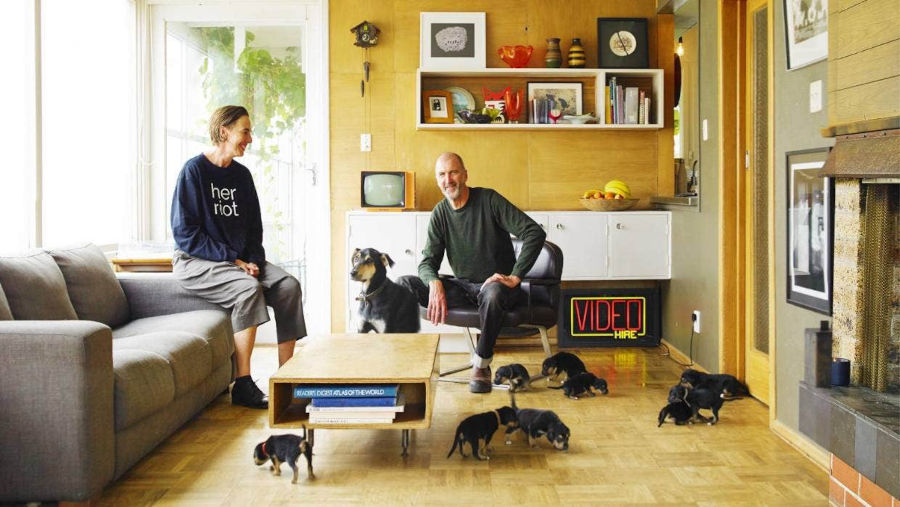 Max and Bron's Modernist House
This house was built in 1959. We have always loved modernist architecture and we just fell in love with it. At one point, it was too small for us, so we moved into a bigger place up the hill. But then we all moved back, because we love it. It's just got a real soul.
We re-homed a dog from a friend's farm and then found out that she was pregnant. We were expecting 8 puppies and in fact there were 12 – one didn't make it. It was a long labour, nothing went as planned. The most amazing thing was seeing our family come together. It's a lot of work; the kids have all stepped up and we're all doing rosters. We're not going to keep any puppies because we have two dogs and which one would we choose? It will be heartbreaking though, they're just so cute.
I had always wanted to design my own label and it was just a matter of taking the plunge and having the courage. Herriot is locally sourced, made in New Zealand, sustainable, very limited edition, very much my own style which is playful androgyny, relaxed, slouchy, always with an influence of menswear.
How did Jacinda come to be wearing Herriot trousers in Vogue?
I knew the stylist – she's New York based – and it stemmed from there. They shot Jacinda in five outfits and then they selected one.
It was quite overwhelming, the attention. I still hadn't done all the manufacturing of my clothes, I just had samples, so there were a lot of hits to the website and nothing to sell. But it was a thrill.
It's not about being a big global brand. People say, where are you going to take your label? I'm like, possibly nowhere, I don't know. If I was in my 20s I might feel differently, but I love my life and I don't want it to change.