Jacinda Ardern Unveils the Pacific War Memorial
9/4/2021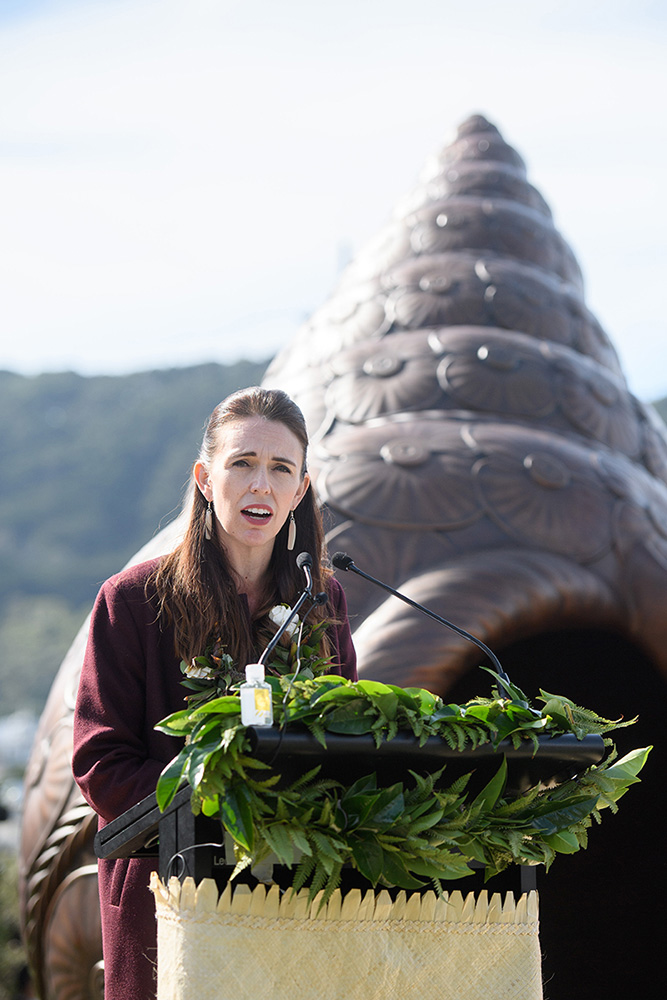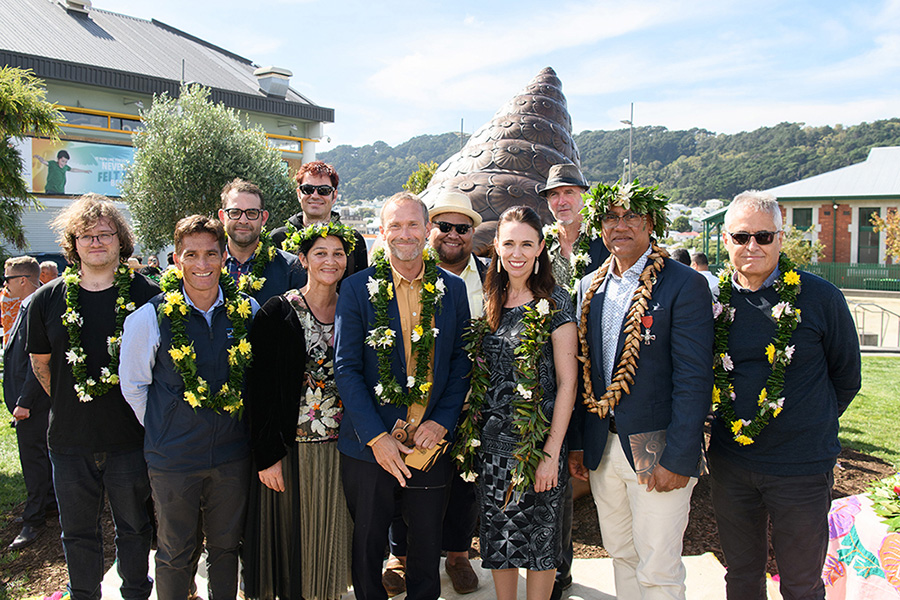 The smile on HMOA director John Melhuish's face says it all. It was a proud day when the Pacific War Memorial, designed by artist Michel Tuffery and closely assisted by HMOA, was unveiled by Prime Minister Jacinda Ardern at Pukehau Park, 27 March 2021.
Emotional ceremony as Jacinda Ardern unveils memorial
The dedication ceremony marked nearly three years since Michel Tuffery and John Melhuish delivered an 'expression of interest to Manatū Taonga, Ministry for Culture and Heritage to create the sculpture.
John says it was very moving to see the work come together. As well as the Prime Minister speaking, the ceremony included music and performance along with speeches from local iwi and the Cook Islands Prime Minister, thanking collaborators and the design selection committee.
As an architect, working on the memorial has been really interesting—it's a project most architects wouldn't anticipate being part of," John Melhuish
John worked closely with Michel Tuffery to realise Michel's vision for the work but there were challenges at all stages.
There were some real complexities in creating and delivering a sculpture of this scale, from the initial competition to delivering it within budget, the manufacturing and transporting from overseas, designing for longevity and, of course, the Wellington wind!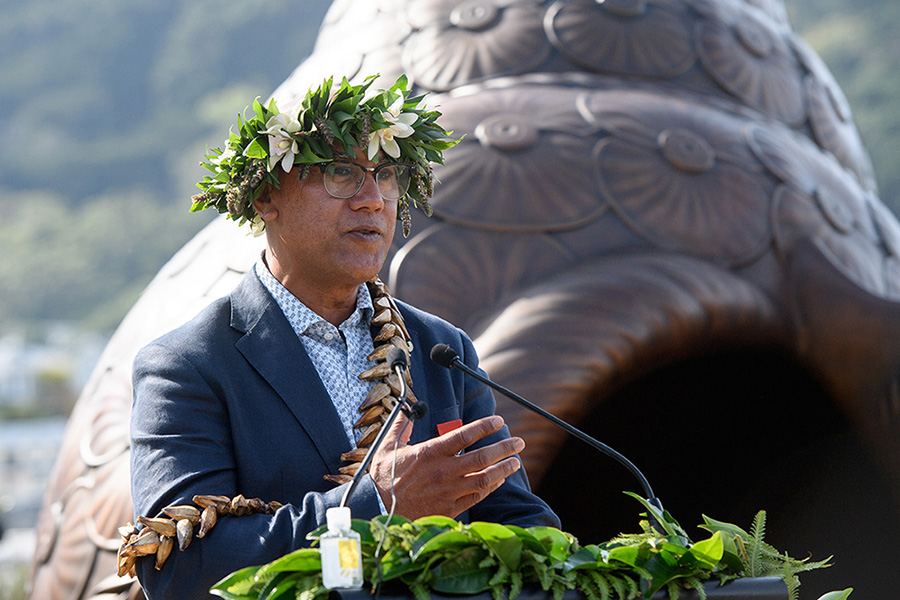 Construction of Sculpture a Massive Undertaking
Te Reo Hotunui o Te Moana-nui-a-Kiwa measures 3.6m in height with the shell opening 1.5m. It weighs about 5000kg.
HMOA brought in structural engineers Alistair Cattanach and Adam Thornton from Dunning Thornton to figure out how the memorial would stand and how the material would behave.
"The bronze is quite thin but the overall strength comes from structurally connecting the outer shell to the inner one," John says, "We were also fortunate to be able to contract LT McGuinness to deal with the complexities of delivery and installation."
Pacific War Memorial Symbolises Enduring Friendships

Te Reo Hotunui o Te Moana-nui-a-Kiwa is the eighth international monument at Wellington's Pukeahu National War Memorial Park. Ministry for Culture and Heritage Te Pae Mahara memorials manager Brodie Stubbs says that these works "act as symbols of our shared experiences of conflict, as well as our enduring friendships and commitment to peace and international cooperation".
Michel and John hope that families and young people will now enjoy experiencing the sculpture in Pukeahu Park, and they invite people to climb in and on it.
The Deep Sigh of the Pacific
Named Te Reo Hotunui o Te Moana-nui-a-Kiwa, The Deep Sigh of the Pacific, the sculpture was inspired by a conch shell left in the Arras Tunnels by Kuki Airani (Cook Island) soldiers of The New Zealand Tunnelling Company and the New Zealand Māori Pioneer Battalion, who were stationed beneath the French town of Arras during 1916 to 1918.
Michel says the memorial represents New Zealand's enduring friendship with the Pacific Islands and the service of Pacific Islanders who fought for New Zealand in the two World Wars and later conflicts. The bronze conch shell, a symbol deeply rooted in Pacific cultures, also features a patina finish with remembrance poppies.
It was very moving to see the work come together," John Melhuish