Artist & Architect Collaborate: Michel Tuffery & the Pacific Islands Memorial
2/12/2018
Adding even more variety to HMOA's diverse portfolio, John Melhuish is collaborating with artist Michel Tuffery (MNZM) on the Pacific Islands Memorial.
John is working with Michel on his design for a huge bronze conch shell, which will represent Pacific Islanders' contribution to the two world wars and other international conflicts. It's a story that has only recently been told, and Michel's passion for sharing it is infectious.
The sculpture will be displayed in Wellington's Pukeahu National War Memorial Park from next year.
Michel, what are you wanting to achieve with the sculpture?
I hope it will prompt conversations about the stories that have been overlooked—and provide confirmation for our Pacific communities that we have done great service.
The conch is called Te Reo Hotunui o Te Moana nui a Kiwa, or 'the deep sigh of the Pacific'. At about four metres high, visitors will be able to sit in it, touch it and listen to the sound of the wind from it.
The conch is a universal symbol of the Pacific. Our sculpture also gives a nod to the somewhat mysterious story of conch shell that was left in France's Arras Tunnels by Pacific Island soldiers in WWI. It's fitting that the tunnel under Pukeahu Park, where the sculpture will sit, is also named Arras.
What's it been like working with an architect?
At first, I was worried about these architects trying to tell me what to do! But it's been great, there's a synergy. I really relate to John, he gets me and our ideas feed off each other.
I've discovered shared values and a shared understanding of the Wellington kaupapa.
Your childhood successfully married rugby and arts ...
I'm of Samoan, Ma'ohi Tahitian and Cook Island descent but I only knew about the Samoan side, my mother's family, when I was young. The Tuffery name is from my mother's husband, who I knew as my father. It's French (and a famous French brand of jeans).
I grew up in Wellington during the Muldoon years and even as a young child I was aware of the racism. I suffered with dyslexia so was anxious. To help deal with this, my parents sent me to Thorndon School where there was a Montessori approach to learning. I would always rather draw than write.
Later we moved to Newlands, a new and very multicultural suburb but we were still one of only a couple of Pacific Island families.
Our house was like a hotel with people coming and going and several languages spoken. I had four younger brothers and the neighbourhood kids were always at our place.
To survive Newlands College, I became a jock—I got very good at rugby and boxing. Rugby is a religion to me now but it didn't come easy, I worked hard at it. I went from the boy who couldn't catch a rugby ball to the dude you didn't want to muck around with.
It was at Newlands College that I met HMOA's Jenny Duck. We were both sports stars (Jenny went on to play hockey for New Zealand).
Everything was focussed on sport and art.
From Newlands, it was off to Dunedin then Hawaii and beyond …
There were even less Pacific Islanders in Dunedin, where I completed a Diploma of Fine Arts (Hons) at Otago Polytechnic, but I still had a good time. I learned to surf, act, dance and I played rugby of course. Even as a student I had art dealers who were interested in my work.
I received a scholarship to do an MA in Hawaii but got side-tracked during a field trip to Tahiti where I found my relations—two truckloads of family! I also discovered my biological father; he is Tahitian/Cook Island/German.
This was the real beginning of my love for the Pacific. I moved to Rarotonga—making art, playing rugby and looking after my uncle. I think I spent too long in the Islands though, I've been homesick for them ever since.
I've managed to balance family life and my career in New Zealand with returning to the Pacific at every opportunity. I've done various projects including regular visits to the Solomon Islands running an eight-year-long UNESCO programme.
My big break in New Zealand came when I designed the high-profile branding for the 1994 International Arts Festival. In 1995, my work Pisupo lua afe (Corned Beef 2000), a bull made of hundreds of flattened corn beef tins, toured the country in the exhibition Bottled Ocean. It talked about the scourge of diabetes and the impact of global trade on Pacific Island cultures. It's now in the Te Papa collection.
You did a lot of research for the Pacific Islands Memorial …
I collated stories and photographs of men from a range of contingents including Niue, Cook Islands, Samoa, Tonga, Tuvalu, Fiji, Solomon Islands, Tahiti and Kiribati. My early focus was on the German occupation of Samoa and the men recruited for WWI from Samoa and the Cook Islands.
In 2015, I worked with producer Sarah Hunter and other artists on WWI Remembered: The Light and Sound Show. We projected a cast of Pacific names onto the carillon. This had a huge impact and really sewed the seed for the memorial.
At about the same time I undertook a residency to teach at the Esadhar L'ecole at Rouen University in France. While I was there I tried to find out about a conch shell I'd heard about in Raratonga. It was rumoured that Cook Island troops had left a shell in the Arras tunnels during World War I. The French curators I met were initially a bit cagey but it turns out they knew all about it.
Last year, I joined a Cook Islands contingent that travelled to France to visit the site of the conch and lay traditional shells there. The Tahitian Lord's Prayer had been carved on a wall where it was found, so it wasn't from the Cook Islands after all.
We'd love to bring that shell home, we'll keep trying to.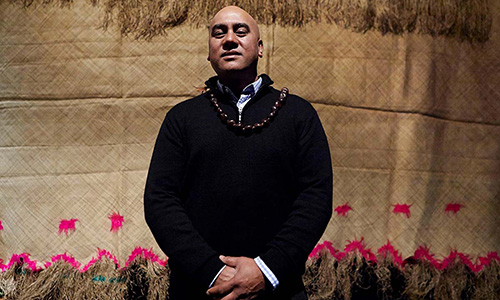 At first, I was worried about these architects trying to tell me what to do!